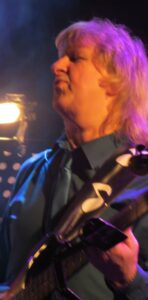 Meet Chris Blair
I decide to put together these tracks that I recorded in earlier years some of which were only released first time around on vinyl or audio cassette.
The first three tracks are taken from albums released by the first professional outfit that I had the pleasure to work with American Express later renamed Expression , those were exciting times working with people who are now lifelong friends Harry Beckinsale, Patsy Tweedie, Gerry Madine Billy McClean, Peter McAuley, George Kaye and the late Brian Croker and Jim Doherty.
We got to tour and do festivals with household names such as Johnny Cash , Frank Ifield, Lonnie Donegan and Bobby Bare.
Patsy and I formed the Shotgun band where we played with Roly Daniels, Philomena Begley, and, a memorable UK wide Don Williams theatre tour.
I then set out on a solo career for 15 years recording my first solo album with a very young talented musician that had joined Shotgun , Stephen Smyth and the next three tracks were recorded in Portaferry with him , and I played and sang everything that you hear there. It coincided with my appearance on the live final of RTE's Live at Three Talent show and the recording of 'I Just Called to Say I Love You' is also featured here.
The next four tracks are from my Live and Giggin' album my first one recorded in my own studio.
And the concluding tracks I have included are a live recording from a 12 year residency at the The Saturday Club in The Huntsman Newtownards which featured what I was doing at that time, A show called ìHits of the Decades Popular songs from the 60s through to the 90s
Thanks once again, Hope to see you all soon.